9.20.21 Advocacy Alert: Border Closure Extended Through October
This morning, the U.S. federal government announced that it will be extending its closure to Canadian travelers through October 21.  
Non-essential Canadian travelers have been banned from entering the U.S. since March 2020. Despite calls from the BNP, numerous members of Congress, and chambers across the nation to open the border, the Biden administration has not relented in its approach – even after Canada opened its doors to American travelers in August. 
The decision is particularly confusing because the White House also announced this morning that it was relaxing restrictions on travelers from the European Union. EU citizens have also been banned from U.S. entry since March 2020. The White House COVID-19 coordinator said this morning that the U.S. will welcome European travelers who are vaccinated and present a negative test beginning in November.  
The White House's rationale for allowing an influx of European travelers while keeping out Canadian travelers is unclear. The continued closure extends the harm being done to our border community economy. The closure has cost our region's bridges $50 million in revenue, and the cost to our region's businesses is even greater.  
The BNP maintains its position that public health and economic vitality are not mutually exclusive goals. Both Canada's policy for American travelers and the new U.S. policy for EU travelers show that America can welcome foreign travelers without risking an uptick in COVID transmission. The U.S. should extend this courtesy to our northern neighbors immediately.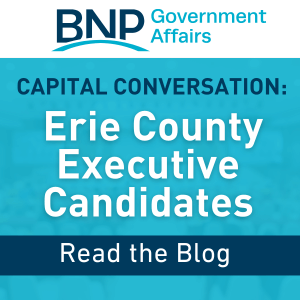 In preparation for the 2023 elections, the BNP hosted an Erie County Executive Candidate Forum. Both candidates for Erie County's highest office – incumbent Mark Poloncarz and challenger Chrissy Casilio – were given 45 minutes to address BNP members in a guided discussion.