9.9.21 COVID-19 Bulletin: Biden To Mandate "Vax or Test" Requirement for Large Employers
On 9/24, the BNP and Alcott HR hosted a free webisode: Navigating the New Federal Vaccine Mandate for Employers. You can watch the event HERE.
On September 9th, President Joe Biden announced a new mandate: all employers with 100 or more employees must ensure their workforce is fully vaccinated or require weekly testing of unvaccinated workers.  
The new mandate will be published in a forthcoming OSHA rule, so full details have not been released yet. However, the administration has indicated that the effective date would give workers sufficient time to get vaccinated.  
The mandate did not stop there. Biden's announcement also included: 
Mandating the vaccine for all federal employees. Biden previously allowed unvaccinated employees to use testing as an alternative; this will no longer be an option.

 

Imposing a vaccine mandate for all employees of contractors doing business with the federal government. 

 

Requiring "workers in most health care settings that receive Medicare or Medicaid reimbursement" to be vaccinated. 

 

Requiring employers with over 100 employees to provide paid time off for the time it takes to get vaccinated and recover from vaccine side effects

 (already mandated in NYS)

. 

 

Encouraging, but not mandating, that large venues require proof of vaccination or a negative test for entry.

 
The mandates are expected to be enforced by steep fines. Large employers, employers in the healthcare industry, and organizations that do business with the federal government should prepare accordingly. 
The BNP will keep you informed of specifics as soon as the federal government releases its final rules.  
The BNP can help set up a vaccination event at your workplace. If you are interested, complete our form. 
Individuals can schedule COVID-19 vaccine appointments here, or schedule COVID-19 testing here.  
The BNP will continue to keep you informed with any COVID-19 updates. For information on returning to the workplace or preparing your organization for COVID-19 vaccines, visit our COVID-19 Resources page. 
*******
The Buffalo Niagara Partnership is committed to providing employers with the latest information and resources to help you deal with COVID-19 and its impact on our community, state and nation. Visit our Events and Resource pages as they are updated regularly to provide you with the most current information.
Do you have specific questions related to running your business or your business unit? Visit the BNP Business Link, a question and answer forum for, and by, the Buffalo Niagara business community.  Submit your questions and get expert answers on just about any topic from legal, IT, HR, NYS regulations, sales, marketing, communications and more.  It is quick, confidential, powerful and convenient.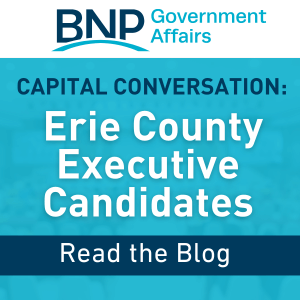 In preparation for the 2023 elections, the BNP hosted an Erie County Executive Candidate Forum. Both candidates for Erie County's highest office – incumbent Mark Poloncarz and challenger Chrissy Casilio – were given 45 minutes to address BNP members in a guided discussion.