7.26.21 Webisode: What Employers Need to Know About the NY HERO Act – #2 Understanding & Implementing Prevention Standards
What Employers Need to Know About the NY HERO Act | Webisode Series | Part 2 - Understanding & Implementing Prevention Standards
The NY HERO Act creates new workplace safety standards that every private employer in New York
will have to follow. These standards govern a wide variety of topics, including health screening, masks and PPE, handwashing, surface disinfecting, social distancing, quarantines, and ventilation.
The HERO Act is now in effect, so it is essential for employers to learn about the new responsibilities the law creates. Join us for a free webisode featuring experts from Goldberg Segalla to learn what the new regulations are, how to best adopt them in your workplace, and what new responsibilities this law gives you.
This virtual presentation was led by Kristin Klein Wheaton and Christopher P. Maugans of Goldberg Segalla.
Watch the Presentation Below
Download a Copy of the Presentation Slides HERE.
Missed the first Webisode in this series?
Watch Webisode 1: What Employers Need to Know About the NY Hero Act HERE.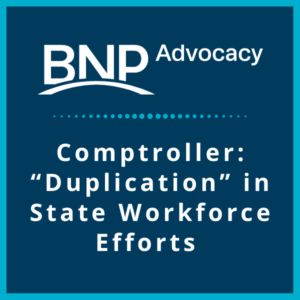 New York State Comptroller Tom DiNapoli recently released a report assessing the state Department of Labor's workforce development efforts. The report found significant overlap, duplication, gaps, and fragmentation in state workforce development programs and services. The audit found that New York offers over 500 workforce development programs and services, administered