Information Technology
Buffalo Niagara's tech community is growing, adding new start-ups and employees to the region as well as improving efficiencies at existing companies.  Skilled tech talent is needed to sustain this growth, in an industry that already has a $3.3 billion direct economic impact on the region. 
Join BNP, and strategic partner Tech Buffalo, as we bring leaders together to collaborate, strategize and support the future of the tech community in our region. 
Member Participants at the Information Technology Industry Leaders Forum
Aleron
Arcara Solutions
Bank On Buffalo
Buffalo Black Billion
Buffalo Manufacturing Works, operated by EWI
Business Technology Professionals
Empire State Development Western New York Regional Office
EnergyMark, LLC
Harris Beach PLLC
Independent Health
Invest Buffalo Niagara
LaBella Associates, D.P.C
Lighthouse Technology Services
Mission: Ignite
MVP Network Consulting, LLC
PCB Piezotronics, Inc. – An Amphenol Company
Say Yes Buffalo
Sparq
Synergy IT Solutions
TechBuffalo
The Bonadio Group
UB Center for Industrial Effectiveness (TCIE)
University at Buffalo
Interested In Joining or Sponsoring?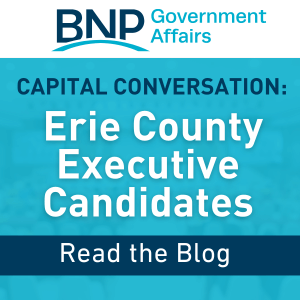 In preparation for the 2023 elections, the BNP hosted an Erie County Executive Candidate Forum. Both candidates for Erie County's highest office – incumbent Mark Poloncarz and challenger Chrissy Casilio – were given 45 minutes to address BNP members in a guided discussion.