Expert Forum: Third-party ratings are good for your health.
By Richard Argentieri, Senior Vice President, Chief Sales & Marketing Officer | Independent Health
Consumers turn to third party ratings and rankings when purchasing everything from cars to computers. These types of third-party ratings are also helpful when it comes to evaluating health plans. Objective rankings and customer satisfaction survey results provide perspectives on how pleased a membership is with a plan's overall performance. This is a good predictor of how satisfied employers and their employees will be, and how well they may be taken care of when they need services.
A number of companies and magazines publish health plan ratings using a variety of research and sources, ranging from randomized consumer surveys to verified claims data to measure quality, to a combination of those. The two most reliable rating organizations are the National Committee for Quality Assurance (NCQA) and The Centers for Medicare and Medicaid Services (CMS).
NCQA is an independent, non-profit accreditation organization established in the early 1990s. Its original mission was to measure the quality and track the accountability of health plans. It has since evolved its services to measure the quality of medical providers and practices. CMS is the federal agency that administers Medicare and oversees Medicare Advantage plans. The agency measures Medicare plans, including what's known as Employer Group Waiver Plans (EGWP), which are health plans offered by public or private sector employers to their retirees.
Both organizations use a five-star rating system. NCQA rates all types of plans; employers should pay particular attention to NCQA ratings of commercial, private health plans, while consumers with Medicare coverage use CMS ratings.
What's behind the NCQA ratings? How does NCQA come up with its 5-star scale?  
NCQA ratings are based on three types of quality measures: measures of clinical quality from NCQA's Healthcare Effectiveness Data and Information Set (HEDIS®) and Health Outcomes Survey (HOS); measures of patient experience using the Consumer Assessment of Healthcare Providers and Systems (CAHPS®); and results from NCQA's review of a health plan's health quality processes (NCQA Accreditation).
HEDIS includes more than 90 measures, categorized among six domains:
Effectiveness of care (e.g., types of preventive services, immunizations, etc.)
Access/availability of care (e.g., rates of preventive visits and other health services)
Experience of care (e.g., patients' experience with their doctor, accessing care)
Utilization and risk adjusted utilization
Health plan descriptive information
Measures reported using electronic clinical data systems
The NCQA Overall rating is the weighted average of a plan's HEDIS, HOS and CAHPS measure ratings, plus Accreditation bonus points, if the plan earns NCQA's three-year accreditation. It is based on performance on dozens of measures of care and is calculated on a 0–5 scale in half-points (5 is highest). Performance includes three subcategories (also scored 0–5 in half-points):
Patient Experience: Patient-reported experience of care, including experience with doctors, services and customer service (measures in the Patient Experience category).
Rates for Clinical Measures: The proportion of eligible members who received preventive services (Immunizations, cancer screenings, bloodwork) and the proportion of eligible members who received recommended care for management of certain conditions, such as diabetes (e.g., regular bloodwork, retinal eye exam, etc.).
NCQA Health Plan Accreditation: For a plan with an Accredited or Provisional status, 0.5 bonus points are added to the overall rating before rounding to the nearest half-point, and displayed as stars. A plan with an Interim status receives 0.15 bonus points added to the overall rating before rounding to the nearest half-point, and displayed as stars.
NCQA recently released its health plan ratings for 2023; the full list is available on the NCQA website. You can learn about Independent Health's rating here, which shows that we've earned a 5-Star rating out of 5 in NCQA's commercial Health Plans Ratings for 2023. In addition to its overall NCQA 5-star rating, Independent Health was one of only two plans nationally to earn 5 stars in the category of member satisfaction and one of three plans to receive 5 stars for preventive care. The NCQA rating is consistent with Independent Health's 5-Star rating by CMS in 2023 for our Medicare Advantage plans, and our achievement as the top performing Medicaid Managed Care plan in the New York State Department of Health's (NYSDOH's) Medicaid Managed Care Incentive Program.
In the words of Independent Health's president and CEO, Michael Cropp, M.D.: "Independent Health is tremendously proud to make it to the top of the NCQA Commercial Health Plan Ratings. In terms of quality coverage and member satisfaction, it's like winning the Super Bowl."
ABOUT THE AUTHOR:
Richard Argentieri is responsible for developing and successfully implementing Independent Health's sales, marketing and communication strategies to retain and grow membership for the company's lines of business, including commercial fully insured and self-funded markets, Medicare, and State Programs. Argentieri, who earned his bachelor's degree in marketing and management from Canisius College, has more than 30 years of experience in the local health insurance market, including 20 years with Independent Health.
Disclaimer: The above commentary entails the views of the author and not necessarily the views of the Buffalo Niagara Partnership. 
Interested in producing an Expert Forum for your organization? Contact our Member Engagement Manager: Ann Brooker.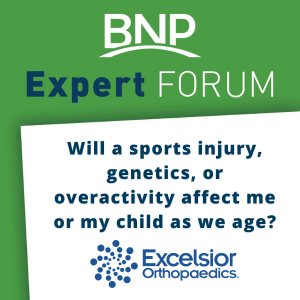 You might not think about it when you're a teen or young adult, but the orthopaedic injuries we experience in our youth can have implications later in life. Your genetic makeup may also play a factor in joint deterioration or mobility as you get older, but it's not all doom and gloom: You or your child CAN make a full recovery and also take steps to stay healthy as you age! Here are some common scenarios that Excelsior Orthopaedics treats people for every day.