Expert Forum: Key questions employers should ask before choosing group health coverage
By Richard Argentieri, Senior Vice President, Chief Sales & Marketing Officer |  Independent Health
Several studies underscore the cost of poor health on worker productivity, including a 2018 study by the Integrated Benefits Institute which found costs related to lost productivity from illness amounts to $530 billion annually, or 60 cents for every dollar employers spend on health coverage.
Those figures make it clear how important it is to carefully consider the health coverage for your workforce. In addition to comprehensive benefits and price, there are other factors at play as well.
Here are three key considerations health care decision-makers should keep in mind when researching and comparing health plans:
Look beyond the premium to gauge which plan provides the best value for your health care dollar.
Health care costs continue to be among the fastest-growing costs for businesses across the nation, so while the premium of a plan is certainly a factor that has to be weighed, quality and value should be considered as well. Does the plan offer added benefits such as help for improving nutrition, and preventing chronic conditions? What tools and resources does the plan offer to empower members to take control of their health? What digital tools and apps does the plan offer?
Make sure a plan has a proven track record of delivering new programs and benefits that meet the ever-changing needs and lifestyles of its members. Also, check if it offers services , resources and innovative engagement tools to help keep its members as healthy and productive as possible.
Consider the plan's relationship with its provider network: how well does the plan collaborate or coordinate with physicians?
Poorly managed chronic conditions can lead to unnecessary health care costs in terms of unmet medical needs and complications. Health plans that provide physicians with the right information, support, and care coordination can lead to more proactive management of medical conditions, better communication among doctors and better outcomes. Provider perspectives and opinions on which plans work better with providers can be a helpful guide to the right health plan.
Choosing a plan that has a strong, collaborative relationship with providers can result in better-coordinated care for your employees and lower overall costs.
Is the plan known for providing excellent customer service?
To paraphrase a common mantra from the real estate world, a primary consideration for the value of a health plan is "service, service, service," because employees will have questions and need help somewhere along the way.
The fewer customer service issues your employees have, the less time they will have to deal with them.  Third-party rankings and customer satisfaction survey results – such as the NCQA Health Insurance Plan Ratings – provide objective perspectives on how pleased a membership is with a plan's overall performance. This is a good indication of how satisfied you and your employees will be, and how well they may be taken care of when they need services.
Having direct access to trusted experts, including local representatives and local offices, who can answer individuals' questions before and after they're members, is important.
Choosing the right health plan is a big decision for employees and businesses alike. By asking a few simple questions and doing a little homework, health benefit managers will be well-positioned to make the right choice for everyone.
ABOUT THE AUTHOR:
Richard Argentieri is responsible for developing and successfully implementing sales strategies to retain and grow membership in the small and large group commercial health insurance market for both fully insured and self-funded segments. Argentieri, who earned his bachelor's degree in marketing and management from Canisius College, has more than 30 years of experience in the local health insurance market, including 19 years with Independent Health.
Disclaimer: The above commentary entails the views of the author and not necessarily the views of the Buffalo Niagara Partnership. 
Interested in producing an Expert Forum for your organization? Contact our Member Engagement Team: Nancy McNamara and Ann Brooker.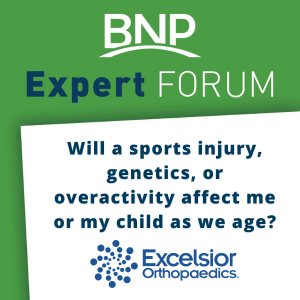 You might not think about it when you're a teen or young adult, but the orthopaedic injuries we experience in our youth can have implications later in life. Your genetic makeup may also play a factor in joint deterioration or mobility as you get older, but it's not all doom and gloom: You or your child CAN make a full recovery and also take steps to stay healthy as you age! Here are some common scenarios that Excelsior Orthopaedics treats people for every day.