2023 DEI Symposium: Meet Mauricio C. Diaz, Speaker
The BNP is pleased to welcome Mauricio C. Diaz, Program Director, Buffalo Purchasing Initiative as a Speaker at our 2023 DEI Symposium.
We will be helping you get to know each presenter, panelist, and moderator in the weeks ahead, leading up to the 6th Annual D&I Symposium on June 1st – get your tickets here.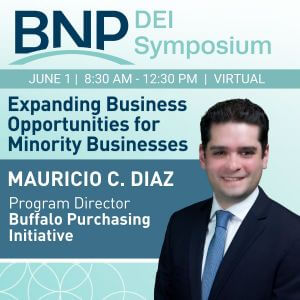 More about Mauricio:
Mauricio was newly named the Program Director of the Buffalo Purchasing Initiative. He was recently awarded the Buffalo District Minority Small Business Champion of the Year 2020 by the US Small Business Administration (SBA). His experience involves several key economic development roles with Empire State Development, Division of Minority and Women's Business Development, and Buffalo State, Small Business Development Center (SBDC). He is a professional and subject matter expert in the minority business development arena, consulting with minority business owners, educating individuals as to the availability of contracting opportunities and assistance programs, processing MWBE certifications, and more. 
2023 DEI Symposium Panel: Procurement: Expanding Business Opportunities for Minority Business
Learn how the Buffalo Purchasing Initiative can help you to explore strategies and resources to expand purchasing options with local businesses owned by people of color.
Presenter: Mauricio Canton-Diaz, Program Director, Buffalo Purchasing Initiative.
General
Attend the 2023 DEI Symposium
Our 6th Annual Diversity, Equity, and Inclusion Symposium will feature local and national experts sharing their knowledge on hiring and retention, inclusive leadership, the importance of DEI data, and more.
KEYNOTE: Sandra Quince, Paradigm for Parity CEO, Bank of America Leader on Loan
This event will feature workshops and break-out sessions with actionable next steps for attendees to take away.
Thursday, June 1, 2023
8:30 a.m. to 12:30 p.m. EDT


Register to Attend Here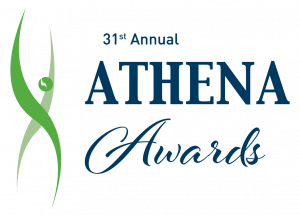 The Buffalo Niagara Partnership is pleased to announce the individual finalists for the 2022 ATHENA Awards®. The awards recognize contributions made by women leaders that show professional excellence and advance the status of women throughout the Buffalo Niagara region.