Get to know Bond, Schoeneck & King PLLC, finalist in the 2023 ATHENA Organizational For-Profit Award® Category
For more than 30 years, the Buffalo Niagara Partnership has been honored to produce the ATHENA Awards® to support, develop, and honor women leaders in Western New York.
The BNP is pleased to introduce you to the finalists who have been selected for the 2023 ATHENA honors. This includes the ATHENA Leadership Award®, the ATHENA Young Professional Leadership Award®, and the ATHENA Organizational Award®, which recognizes one for-profit organization and one non-profit organization that inspire women in WNY.
We're highlighting each finalist in the weeks ahead, leading up to the Awards Luncheon. Come back often to read the profiles and you'll learn what it means to be an ATHENA!
Celebrate all of our finalists and see the recipients announced LIVE on March 29, 2023 at the Buffalo Niagara Convention Center.
The Buffalo Niagara Partnership is pleased to introduce you to 1 of 5 finalists in the ATHENA Organizational For-Profit Award® category: Bond, Schoeneck & King PLLC.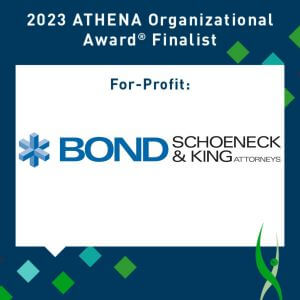 Bond, Schoeneck & King PLLC is a law firm with 285 lawyers serving individuals, companies, nonprofits, and public sector entities in a broad range of practice areas. These include real estate development and construction; health and long-term care; manufacturing; higher education; municipalities and school districts; and agribusiness among others. Bond has eight offices in New York State as well as offices in Boston, Kansas City, Naples, Florida, and Red Bank, New Jersey.
Company Culture
In support of the firm's commitment to the recruitment, promotion, and retention of women attorneys, Bond formally created the Women's Initiative in 2008 to foster the development of the firm's women attorneys and women professionals in the community through a variety of internal and external programs.  Bond has long maintained a culture of providing a collegial and fulfilling environment in which its attorneys can practice law. Since 2022 alone, the women of Bond embodied this culture and continued the Women's Initiative's mission of encouraging the development of its women attorneys. Women are not only integral in the dedicated representation of Bond's clients, but they also play pivotal roles in the leadership and management within Bond itself.
Community Engagement
Bond Buffalo attorneys have deep roots in the Buffalo community. Collectively, the Women's Initiative actively serves the local community through its members' participation and leadership in various pro bono and charitable projects including projects with the Legal Aid Bureau of Buffalo. On an individual level, the firm actively encourages and supports the board efforts of the women attorneys. Some of the board and community efforts in which women attorneys are involved include The Buffalo Zoo, Friends of Reinstein Woods, Autism Services, Inc., and YWCA of Western New York to name a few.
Leadership
Bond employs 282 attorneys, 107 (38%) of whom are women and 24 of whom identify as being part of a group that is historically underrepresented in the legal profession. Of its 47 paralegals, 45 (96%) are women.
Of the 185 non-attorney, non-paralegal staff members, 145 (78%) are women and 27 identify as being part of a historically underrepresented group; and
Of its 161 members (partners), 51 (32%) are women and 12 identify as being part of a group that is historically underrepresented in the legal profession.
Diversity, Equity, and Inclusion
Bond, Schoeneck & King is committed to the promotion of anti-racism and intentional diversity throughout the community, the legal profession, and the firm. Bond will continue to build on its past efforts, which included sponsorship of the second year of the award-winning "Bond, Schoeneck & King Series on Race & Justice in Central New York", an initiative of the Onondaga County Bar Association and Syracuse University College of Law. Bond sponsored the first ever Empire State Legal Diversity Career Fair in Buffalo, NY and attorneys have served on the Buffalo Niagara Partnership Diversity Executive Council. The firm also offers the M. Catherine Richardson (1L Diversity) Clerkship Program for aspiring law students from historically excluded communities.
Attend the ATHENA Awards® Luncheon
The ATHENA Awards® Luncheon is the region's most prestigious event recognizing the professional accomplishments of exceptional individuals who are dedicated to the advancement of women. Be there when the recipients are announced:
Wednesday, March 29, 2023
11:00 A.M. to 1:30 P.M.
REGISTER