Get to know AAA WCNY, finalist in the 2023 ATHENA Organizational Non-Profit Award® Category
For more than 30 years, the Buffalo Niagara Partnership has been honored to produce the ATHENA Awards® to support, develop, and honor women leaders in Western New York.
The BNP is pleased to introduce you to the finalists who have been selected for the 2023 ATHENA honors. This includes the ATHENA Leadership Award®, the ATHENA Young Professional Leadership Award®, and the ATHENA Organizational Award®, which recognizes one for-profit organization and one non-profit organization that inspire women in WNY.
We're highlighting each finalist in the weeks ahead, leading up to the Awards Luncheon. Come back often to read the profiles and you'll learn what it means to be an ATHENA!
Celebrate all of our finalists and see the recipients announced LIVE on March 29, 2023 at the Buffalo Niagara Convention Center.
The Buffalo Niagara Partnership is pleased to introduce you to 1 of 6 finalists in the ATHENA Organizational Non-Profit Award® category: AAA WCNY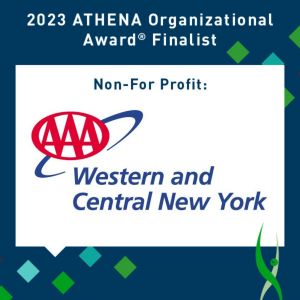 As Upstate New York's largest member organization, AAA Western and Central New York provides more than 887,000 members with travel, insurance, financial and automotive-related services.
With over 600 associates across three major metro areas – Buffalo, Rochester, and Syracuse – AAA serves its members 24/7/365 with emergency road service. While best known for helping members on the roadside, AAA also offers travel and insurance services and advocates for traffic safety through its Foundation for Traffic Safety along with popular driver training programs.
Company Culture
AAA has a long history of female executives and board members who have led to decades of success in the Buffalo, Rochester & Syracuse regions. Female associates are provided opportunities for growth based on contributions and ability. The company is made up of 59% Female leaders who add superior contributions to members and customers. Its Executive Suite is made up of 3 Female Officers and 3 Male Officers under the CEO. AAA's WNY CEO is a man who not only holds women leaders in the highest regard but also as his confidants in leading the organization.
Community Engagement
AAA has a strong reputation of giving back to the community. There are a few specific organizations that female executives and directors are involved in to support the education and career advancement of women. The CFO and Director of HR are highly involved with Junior Achievement. Additionally, the VP of HR is engaged with SAY YES and Villa Maria college to focus on the career aspirations of minorities in the communities the company serves. The Director of HR was the co-founder of Jennie's circle - a giving circle for women that focuses on mental health in our community. The VP of HR is also a part of Jennie's circle. AAA's female CFO is also involved with Feed More of WNY.  The theme of the company's top female executives is the community and it is a top priority, not only for the work they do at AAA, but the passions each of them have to give back.
Leadership
57% of Leaders at AAA are Female
13% of Female Leaders are Minorities
Chair of Board of Directors - Female
33% of Board of Directors - Female
Executive Leadership: 43% Female
Director Level Leadership: 46% Female
Diversity, Equity, and Inclusion
In May of 2020, AAA expedited the DEIB initiatives that were planned. A diversity team made of 22 leaders and employees created the DEIB Affinity group known as Beacon. Since its inception the team has led Diversity & Inclusion training (courageous conversations) for all levels of associates including the officer team, participated in numerous virtual DEIB symposiums offered by the BNP, provided community support to Juneteenth Celebrations, Pride Parades throughout NYS, assisted East Buffalo during the mass shooting, identified partners to recruit diverse talent, and created diversity metrics to grow minority leaders and focus on the development of diverse talent.
Attend the ATHENA Awards® Luncheon
The ATHENA Awards® Luncheon is the region's most prestigious event recognizing the professional accomplishments of exceptional individuals who are dedicated to the advancement of women. Be there when the recipients are announced:
Wednesday, March 29, 2023
11:00 A.M. to 1:30 P.M.
REGISTER