Advocacy Alert: Where BNP Stands on NY Budget
Happy Valentine's Day. Last week, the BNP hosted its annual Legislative Lunch – a chance to share what employers love and what breaks their hearts in this year's state budget.
At the lunch, BNP members had the chance to meet with 14 different state legislators or their representatives. A member from each legislative conference also laid out their budget priorities for the audience.
The BNP's "Where We Stand" details positives, negatives, and missed opportunities in Governor Hochul's Executive Budget proposal.
What the BNP Supports
Removing some of the regulatory barriers that impact housing development. This includes making it easier to win approval and finance affordable housing projects, targeting investments in neighborhoods with existing infrastructure and in locations with a strong nexus to both employers and public transportation.
Funding for the Emergency Rental Assistance Program, which has been a major help to both tenants and property owners.
Investing in the SUNY system, growing new generations of talent, and strengthening our regional economy.
Supporting hospitals, nursing homes, mental hygiene providers, and assisted living facilities, which face hiring challenges and skyrocketing costs of providing care.
Investing in childcare assistance for both providers and families.
Investing in employer-led workforce development initiatives, so we can ensure that training programs lead to in-demand jobs in our region.
What the BNP Opposes
Banning natural gas hookups, which will make energy less affordable and less reliable.
Governor Hochul's Cap and Invest proposal, which will add significant costs onto employers and consumers.
Extended Producer Responsibility recycling reforms, which will make New York less attractive to manufacturers.
Indexing the minimum wage to inflation. The market should continue to drive wage growth.
Missed Opportunities
No investment toward the state's Unemployment Insurance debt, which is being shouldered by employers who did not cause the debt.
Not bridging the benefits cliff through various policy reforms.
Not repealing the Brownfield Cleanup Program's problematic $50,000 application fee, which is cost prohibitive for the smaller Brownfield projects that occur in our region.
Failing to maximize the historic federal infrastructure investment by matching it with increased state investment into our roads and bridges. Also, policy changes could help each infrastructure dollar stretch further.
Not increasing TAP awards and eligibility to make education more affordable for more New Yorkers
The final budget will be enacted by April 1. The BNP continues to advocate for our regional priorities and will keep you posted with relevant budget updates.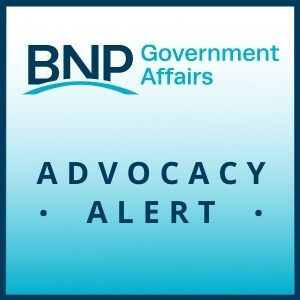 The New York State Legislature gaveled out for the final time of the 2023 legislative session. Although a special session is possible before the end of the year, no major legislative push is expected.
Although much of the most impactful legislation being debated was tabled until next year, many important bills were passed in the waning days of session.