Introducing the Industry Leaders Forum
The Buffalo Niagara Partnership is committed to convening our region's broad and diverse economic sectors and helping local companies compete in changing commercial and talent markets. As all sectors navigate new challenges, business leaders have the needed experience and perspectives to chart a path forward for our economy.
 More strength in numbers
The 2023 BNP Industry Leaders Forum offers a collective approach to today's challenges, blending in-person meetings with timely communications and targeted solutions. If you are a business leader in Western New York, you belong in ILF.
Learn more about the nine-sector-specific ILFs here.
We've created an exclusive opportunity for BNP members to come together with their peers to collaborate and strategize for the future success of their business, industry, and the overall economic vitality of the regional economy.
The ILF is designed to help our members:
Strengthen a unified voice helping to shape the policies and regulations that impact their industries.
Stay updated on news and developments that impact their industries, and the regional, national, and international economies, through strategic communications.
Share best practices and data to help address the most pressing challenges in Buffalo Niagara.
Network and make new connections as businesses navigate in a post-pandemic economic environment.
The ILF meeting series concludes with a 2023 Economic Development Summit on December 7, including participating members from all of the industry sectors.
The combined strengths of all these local leaders set this summit apart – we are so much stronger together as we share data and discuss trends for the year ahead.
If you are a BNP member and interested in learning more about an ILF invitation, please contact Seth Piccirillo, Director of Economic Development, at spiccirillo@thepartnership.org
If you are not a BNP member, now is the time to join and be part of the Industry Leaders Forum.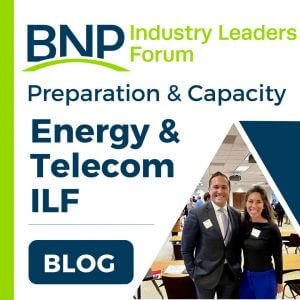 The BNP Energy & Telecommunications Industry Leaders Forum (ILF) came together on September 14 to discuss the future of the sector in the wake of evolving government regulations and consumer trends