Staff Spotlight: Meet Charlene Janiga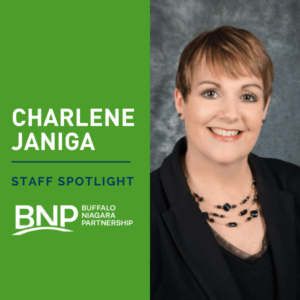 We are pleased to introduce Charlene Janiga, BNP's Senior Coordinator, Marketing & Events as our latest Staff Spotlight.
Charlene's role is to handle all Partnership events registration and also provide support to our Marketing & Events team.
Learn a little bit more about Charlene in this brief Q&A. 
Q: Tell us a little-known fact about yourself.
A: I love hockey and will watch any hockey game I can find on TV, but of course, I am passionate about the Sabres.  At 16 years old, I announced that I would not eat my then received Easter chocolate hockey player until the Sabres won the Stanley cup. I still have it and am patiently waiting.
Q: What do you like to do for fun?
A: I love to travel. I recently went to Alaska which was the last state on my list that I had never visited. I'm also a Disney fanatic and will talk Disney with anyone who wants to listen!

Q: What is your favorite part about living in Buffalo?
A: My favorite part of living in Cheektowaga is it only takes me 10-15 minutes to get anywhere I need to be!
Q: What are you doing differently post-pandemic that you didn't do before?
A: I'm a creature of habit and I really haven't changed anything!
Q: What do you like best about working from home?
A: I like seeing my family before they go off to their jobs. Prior to the pandemic, I was always the first one up and out of the house. It's nice to tell them to have a great day!
Q: Since you are no longer commuting to work, how do you fill your drive time?
A: I sleep in a little longer on my remote days.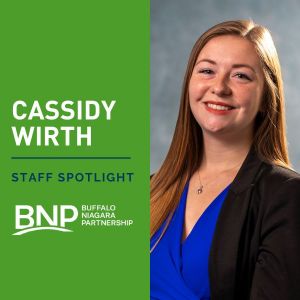 We are pleased to welcome Cassidy Wirth, Manager, Member Engagement, as our latest Staff Spotlight.
Get to know Cassidy in this brief Q&A!