2.10.22 COVID Bulletin: BNP Gets Answers on Masking and HERO Act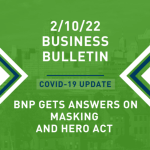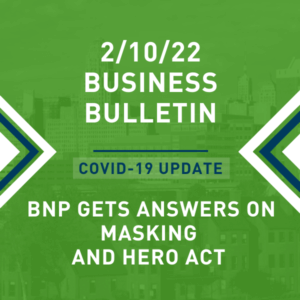 Yesterday, Governor Kathy Hochul announced she would repeal the state's mask mandate, effective today. However, her announcement did not proactively address how the repeal coincided with the NY HERO Act, which would have required employees in most workplaces to continue masking.  
The BNP made the Governor's office aware of this issue and pushed for clarification. Today, the Governor's office clarified.  
The HERO Act remains in effect, but the state relaxed the HERO Act's masking requirements.  
According to the new model infectious disease exposure prevention plan, effective today: 
"Employees will wear appropriate face coverings in accordance with guidance from State Department of Health or the Centers for Disease Control and Prevention, as applicable. Consistent with the guidance from the State Department of Health, if indoor areas do not have a mask or vaccine requirement as a condition of entry, appropriate face coverings are recommended, but not required. It is also recommended that face coverings be worn by unvaccinated individuals, including those with medical exemptions, in accordance with federal CDC guidance. Further, the State's masking requirements continue to be in effect for pre-K to grade 12 schools, public transit, homeless shelters, domestic violence shelters, correctional facilities, nursing homes, health care, child care, group homes, and other sensitive settings in accordance with CDC guidelines. New York State and the State Department of Health continue to strongly recommend face coverings in all public indoor settings as an added layer of protection, even when not required." 
In other words, employees are not required to wear masks at this time unless their employer mandates they do so. 
The BNP will continue to keep you informed and communicate your concerns to policymakers.   
President Trump and Congress have passed a massive $2 trillion stimulus package in the wake of the COVID-19 pandemic that is devastating large segments of the United States economy.
The Partnership organized a webisode with the U.S. Chamber of Commerce to breakdown the stimulus package and help employers better understand what's included to help your business, your employees, and the Buffalo Niagara economy recover in the long run.
The federal and state governments have passed sweeping paid leave policies for workers impacted by COVID-19, aka the corona virus. In response, the Partnership organized a webisode for local employers on 3/25/20 to provide clarity around these new mandates and to help them prepare to take the necessary steps to protect themselves and their employees. Some questions that were answered included:
The Partnership organized a ZOOM call for our Manufacturing Council members with Phillips Lytle LLP on Friday, 3/20. Craig Bucki, discussed the legal implications of the New York State Executive Order on COVID-19 workforce reduction.