12.2.21 Advocacy Alert: BNP Urges Hochul to Maximize Infrastructure Investment
The BNP recently wrote to Governor Kathy Hochul suggesting steps she can take to maximize the incoming infrastructure investment from Washington.
President Biden recently signed into law the bipartisan Infrastructure Investment and Jobs Act. The BNP advocated for this bill, which has the potential for transformative change in Buffalo Niagara. However, in our current landscape, this historic investment may not go as far in New York as it will in other states.
Last year, New York State expanded its prevailing wage law, which significantly increases labor costs on any project that receives public funds.
The Scaffold Law places absolute liability for worksite injuries on employers, a standard that is more strict than any state in the nation. This law makes insurance costs on NYS projects exorbitant, and according to the Buffalo News, there is "no evidence that the Scaffold Law makes construction workers in New York safer than those in any other state." It does, however, make construction in New York much more expensive.
The growing use of project labor agreements reduces competition and increases costs. Also, New York's byzantine bureaucratic review processes can slow the pace and add to the cost of projects.
In a letter, BNP President and CEO Dottie Gallagher urged Gov. Hochul to address these cost drivers. By taking steps now to reduce infrastructure construction costs, New York can maximize this historic investment.
Read the full letter here.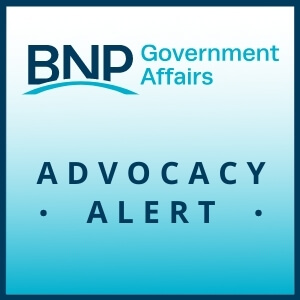 Today, the State Legislature is passing a short-term budget extender, indicating a continued lack of consensus on a budget deal. The extender allows the state government to continue operations while buying time for the Governor and Legislature to reach an agreement on a number of outstanding issues. As we