BNP Advocacy Insider – November 2021
House Passes Bipartisan Infrastructure Legislation
The U. S. House of Representatives recently passed a landmark bipartisan infrastructure bill. This legislation will invest in roads, bridges, water infrastructure, broadband, the electric grid, and airports. This monumental package could also help our region finance numerous priority projects.  
The bill already passed the Senate and now heads to the President's desk.  
The BNP advocated for this legislation and thanks Rep. Reed and Rep. Higgins for their support. To learn more about the legislation and the next political steps, visit our blog.  
OSHA Releases Vaccination Rule
There is nowt clarity on the vaccine mandate for private employers with a workforce of 100 or more. On September 9th, President Joe Biden announced a new mandate: all employers with 100 or more employees must ensure their workforce is fully vaccinated or require weekly testing of unvaccinated workers.  
After a long delay, OSHA released its formal rule last week, providing clarity on what will be expected of employers. 
The BNP compiled a guide to frequently asked questions on this rule to help you implement it in your workplace. The guide is available here.  
BNP Hosting Event on 
OSHA Vax or Test Rule
As described above, the new OSHA rule will have significant and daily impacts on the workplace. To help you understand it best, the BNP is organizing a virtual event on Thursday, December 2 at 8:30am.  
The purpose of this webisode is to update BNP members and the Buffalo Niagara business community on the Emergency Temporary Standard's (ETS) details and implications and to answer specific questions. 
Join the BNP and Cindy Lawrence, Compliance Officer for the Employer Services Corporation, for a discussion on what the ETS means for your workplace and best practices for fully complying with the new rule. Register HERE.  
U.S. Opens Border to Canadian Travelers
On Monday, November 8, the U.S officially opened its doors to vaccinated, non-essential Canadian travelers for the first time since March 2020. The BNP has long pushed for border reopening and continues to advocate for an efficient, streamlined border policy that makes travel between our nations as easy as possible. For more information, visit our blog.  
Hochul Expands Paid Family Leave Law
Recently, Gov. Kathy Hochul signed legislation that makes New Yorkers eligible for paid family leave in more circumstances. Under the original law, New Yorkers can take Paid Family Leave to care for spouses, domestic partners, children and step-children, parents, parents-in-law, grandparents and grandchildren with a serious health condition.  
This legislation adds siblings to that list, meaning workers are entitled to job-protected time off to care for a brother or sister. This law includes biological siblings, adopted siblings, step-siblings and half-siblings, and will take effect Jan. 1, 2023.  
HERO Act Extended; Workplace Safety Committee Provision Takes Effect
Gov. Kathy Hochul recently extended the NY HERO Act through December 15. To understand the safety standards that this law requires of your organization, use our employer checklist.  
While employers have been following HERO Act safety standards since the summer, a new provision of the HERO Act took effect November 1. Employees are now permitted to form workplace safety committees to plan for and identify potential safety hazards in the workplace. Use our guide on this provision to prepare your workplace.  
Hochul Signs Parolee Employment Legislation
Gov. Kathy Hochul recently signed legislation that allows parolees to perform work activities during their curfew times. This legislation removes barriers to reentry for formerly incarcerated individuals, and will help employers find talent needed to staff second and third shifts.  
To learn more about this bill and why the BNP supported it, visit our blog.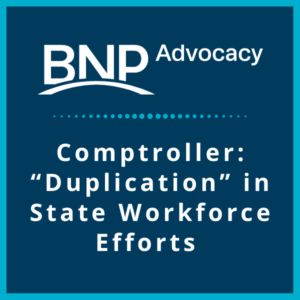 New York State Comptroller Tom DiNapoli recently released a report assessing the state Department of Labor's workforce development efforts. The report found significant overlap, duplication, gaps, and fragmentation in state workforce development programs and services. The audit found that New York offers over 500 workforce development programs and services, administered