We pride ourselves on being thought leaders and a go-to source for information on issues affecting the region.  Some items you'll find here include:
Perspectives on important issues
Guest blogs from industry experts
Notifications about key political happenings
Updates/recaps on our events
Member achievements and spotlights
Significant news and press announcements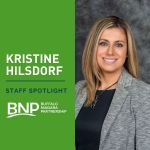 Kristine Hilsdorf is our Manager, Government Affairs & Workforce Development, and our latest staff spotlight!
Kristine's role is to work to improve workforce development and help the regional economy.