Advocacy Alert: Employer Takeaways from SOTU
Last night, President Joe Biden delivered his annual State of the Union address to Congress. Much of the speech was spent touting his legislative victories from the previous two years, including the Infrastructure Investment and Jobs Act and the Chips and Science Act.
The main takeaways for employers:
Buy American standards. Biden proposed mandating that all construction materials for federal infrastructure projects be made in America. The White House says it is working to "implement new standards, once and for all, so materials for roads and bridges, airports, transit, rail, water, high-speed internet, and clean energy infrastructure are made in America and support American jobs." No timeline is known for these new standards.
Higher taxes proposed. Biden proposed increasing taxes on billionaires and on corporate stock buybacks. Although this faces an uphill battle in the Republican House, it shows the President's approach to the deficit: increasing tax revenue. Biden also offered his support for raising the federal debt ceiling.
Junk fees in crosshairs. Biden took aim at fees imposed by airlines, hotels, banks, and entertainment venues. In response, he asked Congress to pass the Junk Fee Prevention Act.
Labor reform proposed. The President called on Congress to pass the PRO Act, which would significantly alter employer-labor relations. The BNP has already joined the US Chamber and countless other industry representatives in opposing the bill. The bill is unlikely to pass the House.
Antitrust reforms. Biden urged Congress to "pass bipartisan legislation to strengthen antitrust enforcement and prevent big online platforms from giving their own products an unfair advantage." Multiple versions of legislation have floated around Congress with no consensus; however, there are legislators in both parties that support antitrust reform conceptually.
…How long? The President spoke very little on climate besides mentioning the climate-related investments in the "Inflation Reduction Act." Biden acknowledged that "we're gonna need oil for at least another decade," contrasting the climate approach by others in Albany and Washington.
The Republican response was provided by Arkansas Governor Sarah Huckabee Sanders.
The BNP continues to communicate with our federal representatives about meeting the needs of our regional economy.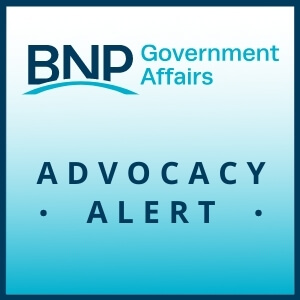 Blog Back to Our Blog Blog Categories This month, a new law regarding pay transparency will take effect in New York. All employers should prepare to comply with this law. Get answers to frequently asked questions below. What does the law require? The law requires employers to disclose the compensation (salary or wage) or range of compensation…