3.28.22 Advocacy Alert: Bills to Remain in WNY for Next 30 Years
Today, the Buffalo Bills, Governor Kathy Hochul, and Erie County Executive Mark Poloncarz announced an agreement to finance the construction of a new stadium and to keep the Bills in Buffalo for decades to come.  
According to the Buffalo News, the Pegulas will spend at least $350 million on the stadium, and the NFL will loan the team an additional $200 million. Taxpayers will provide $850 million for the $1.4 billion project, with $600m coming from the state and $250m from the county. The public appropriations are subject to approval from their respective legislative bodies: the New York State Legislature, who will vote on its budget by Friday, and the Erie County Legislature. NFL teams in smaller markets commonly require some public financing to construct new stadiums.  
The 62,000-seat stadium will be built across Abbott Road from the current stadium in Orchard Park and is expected to open in 2026. According to the Governor, the deal will create 12,000 union construction jobs. All work will be subject to project labor agreements.  
As part of negotiations, the Bills agreed to a thirty-year lease, meaning the Bills will remain in Buffalo Niagara for decades to come.  
County Executive Poloncarz noted that the county and team remain in negotiations about a community benefit agreement. Since the deal will transfer ownership of the stadium from Erie County to New York, Poloncarz said the county is "getting out of the football business." He noted the county will actually spend less on the team with this $250m contribution than it would if the current lease agreement were extended.  
In the 2022 Advocacy Agenda, the BNP called upon state and county leaders to agree to a healthy public-private partnership to keep the Bills in our region.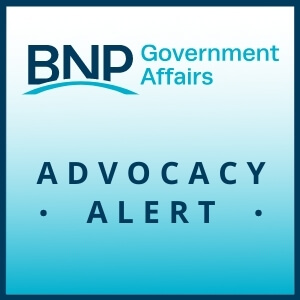 Blog Back to Our Blog Blog Categories This month, a new law regarding pay transparency will take effect in New York. All employers should prepare to comply with this law. Get answers to frequently asked questions below. What does the law require? The law requires employers to disclose the compensation (salary or wage) or range of compensation…