Kyle Herzog, 2021 BN360 Spotlight Professional
The Buffalo Niagara Partnership is pleased to present the 2022 BN360 Spotlight Professionals.
Each year, BN360 highlights up-and-coming young professionals who strive for professional growth and development, care for their community, and are passionate about the future of the Buffalo Niagara region.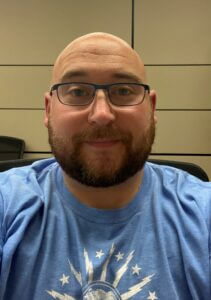 Kyle Herzog  |  
Accounting Operations Supervisor | Merchants Insurance Group 
Kyle Herzog is the Accounting Operations Supervisor at Merchants Insurance Group, where he has diligently worked on his professional development and career within the finance and internal controls fields. This year, Kyle successfully obtained his Certified Public Accountant certification, in addition to his previously acquired Certified Internal Auditor certification. Within his department at Merchants, Kyle helps lesser experienced staff to develop their accounting skills and understanding of the company and its processes.
As a volunteer with Spirited Athletes Bold at Heart (SABAH), Kyle provides support, encouragement, adaptive physical education, and recreation for children challenged by disability in the Western New York region. He also promotes and supports the United Way of Buffalo & Erie County.
First Job:
My first job ever was at the Burger King that used to be inside of the airport.
Greatest Professional Win:
Taking on a new role and being promoted within a year. Spending 18 hours a day during yearend working and studying for the CPA while taking classes to complete all requirements.
Best Piece of Professional Advice:
If you're on the fence about getting your CPA while you are in college or in your early 20s, just do it so you can move your career ahead quicker than you could without it.
Community Engagement:
SABAH skating program in Hamburg
On Being a BN360 Spotlight Professional:
It's good to know that I have the support of my direct manager. We dialogue very often and there is a mutual respect. Much of her advice has been helpful during the last 2 years.
2020 Takeaway:
It's something that I didn't do enough of, I'd say: make some time for yourself. With everything being locked down, nothing to do and nowhere to go, I spent far more time at my desk than I would have liked.
The Pandemic's Career Impact:
I have always preferred a more flexible work environment. The pandemic has forced that upon most companies. I think the majority of people value that flexibility, whether it's avoiding a long drive to an office or spending more time with family. I now hope that the remote work and flexibility are here to stay.
Top 4 Favorites:
Best Buffalo-Niagara Hidden Gem: Letchworth State Park

Go-to Buffalo Food

:

 Barbill in East Aurora

Best Buffalo Activity/Hobby: 

Kayaking the canalside

Place you would take someone new to Buffalo

:

​ Barbill in East Aurora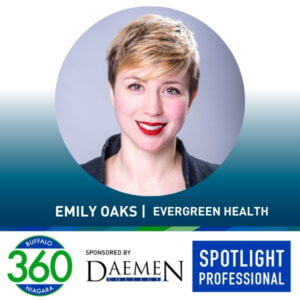 The Buffalo Niagara Partnership is pleased to present Emily Oaks, a 2022 BN360 Spotlight Professional.
Read More