The Buffalo Niagara Partnership is proud to work on behalf of our membership.  Whether drawing attention to an important issue or introducing programs and initiatives, our work reflects the needs and wants of WNY's business community.  Here's what we've been doing lately...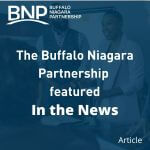 BUFFALO, N.Y. (The Buffalo News) — Don Levy, director of the Siena College Research Institute, calls it the "workforce blues."
Put simply, employers struggle to fill job openings – even as they feel upbeat about their growth prospects.