1.5.22 Advocacy Alert: Hochul Lists Priorities in First State of the State
This afternoon, Governor Kathy Hochul delivered her first State of the State address to the Legislature. In the speech, she discussed the top problems the state faces and her plans to address them.
Hochul made bold claims about reigniting New York's economy, stating, "we are going to jumpstart our economic recovery by being the most business-friendly and worker-friendly state in the nation."
"Governor Hochul proposed many important initiatives that meet our state's needs, including education and workforce development improvements, infrastructure investment, and Brownfield Cleanup Program renewal," said Dottie Gallagher, BNP President and CEO. "After 300,000 residents left New York last year, it is clear that New York needs to pursue bold changes that create opportunities for workers and businesses in our state."
Workforce. The Governor will create a new Office of Workforce and Economic Development at Empire State Development that will collaborate with Regional Economic Development Councils to meet each region's unique workforce needs. Hochul wants New York to join some interstate licensing compacts to improve NY's ability to recruit out-of-state workers. Hochul will pursue "Jails to Jobs" initiative to provide employment opportunities for the formerly incarcerated. She also promised heightened investments in workforce development programs. She will create an Office of Healthcare Workforce Innovation to spur development in the medical sector. State community colleges will provide tuition-free credentialing programs, and Hochul said all SUNY institutions will provide childcare to students.
Housing and Development. Hochul plans to renew the Brownfield Cleanup Program, which has been instrumental in the development of Buffalo Niagara. She hopes to build 100,000 affordable homes and 10,000 supportive housing units. Hochul will also advance legislation to enable the conversion of commercial and office space into residential space.
Energy. Citing climate concerns, Hochul vowed to make New York the "renewable energy capital of the nation," and will specifically pursue offshore wind projects.
Infrastructure. Hochul will invest $1 billion into broadband connectivity – double the amount Gov. Cuomo spent on this effort in 2015. She will also pursue changes to the Kensington Expressway that reconnects East Side neighborhoods without sacrificing the Expressway's traffic capacity. The state will also continue improvement efforts in Buffalo's Outer Harbor and Niagara Falls' waterfront.
Term Limits. Hochul is proposing two-term limits for statewide officials (Governor, Lt. Governor, Attorney General, and Comptroller).
Business Burdens. She will pursue the Extended Producer Responsibility Act, which sticks manufacturers with the burden of financing recycling programs. Hochul made no mention of the state's Unemployment Insurance crisis, which will increase employers' UI rates without her action. The Governor said she would provide $100 million in tax relief to small businesses.
Education. Hochul promised new investments into SUNY campuses, as well as expanding TAP eligibility to include part-time students.
The speech kicks off the 2022 Legislative Session. Although Hochul has been Governor since August, she has not been in office while the Legislature is in session (except for a brief special session to extend the eviction moratorium).
Hochul's State of the State book is available here.
To learn more about what issues the BNP is tracking as the Legislature convenes, read our 2022 Session Preview.
The BNP will unveil its full 2022 Advocacy Agenda virtually next Thursday. Register here.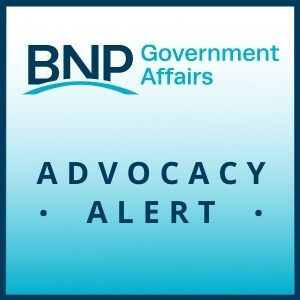 With just five weeks to go until the state budget is finalized, time is running out to sound the alarm about the Governor's energy and climate proposals.