What if you could build the ideal employee and have them at the ready when you need them most?
Our Talent Pipeline Management program is a 1-2 year workshop that brings companies with similar job needs together. Members of the workgroup have the opportunity to share their common talent pain-points, communicate new industry expectations and address long-term needs.
With this information, we will collaborate with the organizations that are preparing people for the workforce. This will establish a pipeline of talent that is aligned with your requirements and the evolving industry standards.
What is TPM?
Watch this US Chamber video to learn more.
Manufacturing Collaborative
Customer Service Collaborative
Caring Economy Collaborative
Commercial Drivers Collaborative
Collaborative Quarterly Reports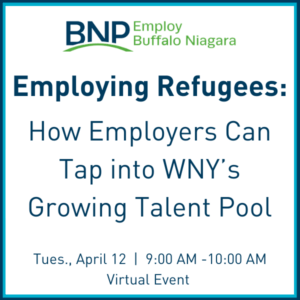 Buffalo Niagara continues to welcome refugees from around the world. Many of our newest neighbors come to WNY with skills and experience and are prepared to become a valuable part of your workforce.