Advocacy Alert: State Budget to be Late
State leaders are predicting a late state budget. Yesterday, Governor Hochul said that "it's becoming clear that the budget will not be meeting the April 1 deadline."
Failing to pass a budget – absent some form of a continuing resolution – would prevent the state from making payroll, causing a state government shutdown. Passing a budget a few days late is mostly harmless, but a prolonged shutdown could cause significant service disruptions in state government.
Sticking points include:
Bail Reform. After a surprisingly close gubernatorial race that featured bail reform above all other issues, Gov. Hochul has proposed changes to add more judicial discretion to the law. The proposal remains highly controversial within the Democratic caucuses, which has stalled budget negotiations and prevented discussion on other key areas.
Housing. The Governor and Legislature have proposed varying approaches to improving access to affordable housing. Housing construction mandates, incentives for development, and rent control measures are all on the table, but the complexity of the issue has slowed negotiations.
Climate Issues. Although both are likely to be passed in some form, there is disagreement over some of the details in both the proposed natural gas ban and the "cap-and-invest" system.
Minimum Wage. Minimum wage indexing has widespread support and will pass, but many in the Legislature want to raise the minimum wage before indexing it. The number to which the minimum wage is raised remains a sticking point.
After many months of budget-focused advocacy, the BNP made a final push in a recent letter to lawmakers.
Whenever the final budget is passed, the BNP will keep you informed of what it includes.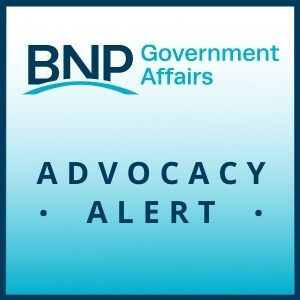 New York's 2023 state budget includes a ban on fossil fuel equipment and building systems in new construction. The ban creates major concerns about energy affordability and reliability.