1.28.22 COVID-19 Bulletin: Hochul Extends Mask Mandate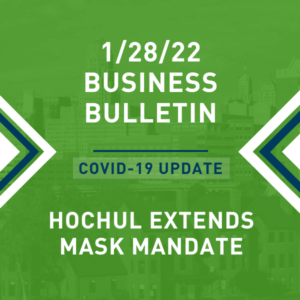 Today, Gov. Kathy Hochul extended the state's mask mandate for indoor public places through February 10th. The mandate was previously set to expire on Tuesday. 
The move comes after a confusing week of litigation. After a state court ruled the mandate unconstitutional, the Hochul administration immediately appealed. Another court then temporarily allowed the rule to remain in place.  
Hochul announced the extension during a press conference this afternoon, viewable here (discussed at the 32:30 mark). 
For organizations in Erie County, the county's mask mandate would remain in effect even if the state's was lifted. The county's mandate does not have an expiration date, but County Executive Poloncarz indicated this week that the mandate may be lifted in February if COVID continues to slow in the region.  
The BNP recently hosted a webinar to help you implement the state mandate, available here.  
We will keep you informed of any changes to state or county mandates.  
The Partnership hosted a special Manufacturing Council meeting on safe operating practices in the wake of COVID-19.
Safe facility and operational management are critical focal points for both the remainder of the New York State on PAUSE order and the wider reopening of the regional economy to come.