The Buffalo Building Reuse Project (BBRP) is a public/private effort seeking to make downtown Buffalo more competitive for private investment in the 21st century.
At the request of Buffalo Mayor Byron Brown, Buffalo Niagara Partnership staff convened and led a team of business leaders, real-estate professionals, economic development practitioners and key municipal stakeholders to complete the BBRP report.
The BBRP report uses a framework for where to direct reinvestment funds. It contains four project recommendations that are then broken down into multiple actionable items. These include:
Make downtown more attractive to existing and future potential tenants with appropriate space and amenities
Establish a "smart" development process and management structure
Develop effective tools that encourage investment and redevelopment (improve existing tools; develop new)
Communicate the benefits of downtown for live, work, play activities to attract more private investment into downtown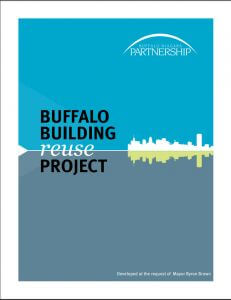 Members, please log in to the Member Portal to view this document.
Following a year-long study, BBRP volunteers crafted recommendations and actionable strategies which are now being implemented. The report identifies more than 400 buildings downtown that are candidates for adaptive reuse and developers are eying many of them.
Key to the successful revitalization of Downtown Buffalo is an ongoing public-private partnership between:
The City of Buffalo
Buffalo Urban Development Corporation
Buffalo Niagara Partnership
The private real estate and development industry
"Our Planing Mill adaptive reuse project was physically and financially challenging. Through the BBRP loan program, championed by the Partnership, we were able to obtain critical bridge financing to ensure the completion of the project. As a result, new life has been injected into a once-neglected part of downtown."
-Christian Campos, President, TM Montante Development