FOR IMMEDIATE RELEASE:
August 14, 2023
Buffalo Niagara Partnership Elects Officers and New Members to Its Board of Directors
Regional Business Leaders Join Buffalo Niagara Partnership's Board
BUFFALO, N.Y. — The Buffalo Niagara Partnership, the area's regional chamber of commerce and privately-funded economic development organization, is pleased to announce recent changes to its Board of Directors and Officers of the chamber.
Chair, John Scannell, Board, Moog Corporation
Vice Chair and Secretary, Jonathan Dandes, Rich Products Corporation
Vice Chair, Donna DeCarolis, President, National Fuel Gas Distribution Corporation
Vice Chair, Gregory Duval, HSBC Bank USA, N.A., Regional Executive & Managing Director, Great Lakes Region
Treasurer, Thomas Emmerling, Dopkins & Company LLP
BNP members elected eight new regional executives to its Board of Directors:
Yves-Richard Blanc, President and Chief Photographer, Blanc Global Dynamism, LLC
Trina Burruss, President & CEO, United Way of Buffalo & Erie County
Betsy Constantine, President & CEO, Community Foundation for Greater Buffalo
Kevin J. Cross, Managing Partner & Chairman, Lippes Mathias LLP
Joseph DeFazio, President & CEO, Principal, Wendel
Colleen Heidinger, President, 43North
Patty Kaminski, Sr. Vice President, Buffalo Division, Wegmans Food Markets, Inc.
Darren J. King, Senior Executive Vice President, M&T Bank Corp.
"Their vast expertise from various sectors, including public, private, and nonprofit, will undoubtedly enrich our organization and contribute to our mission of fostering a stronger and more vibrant regional economy," said Dottie Gallagher, President and CEO, Buffalo Niagara Partnership.
To see the complete listing of board members, visit www.thepartnership.org.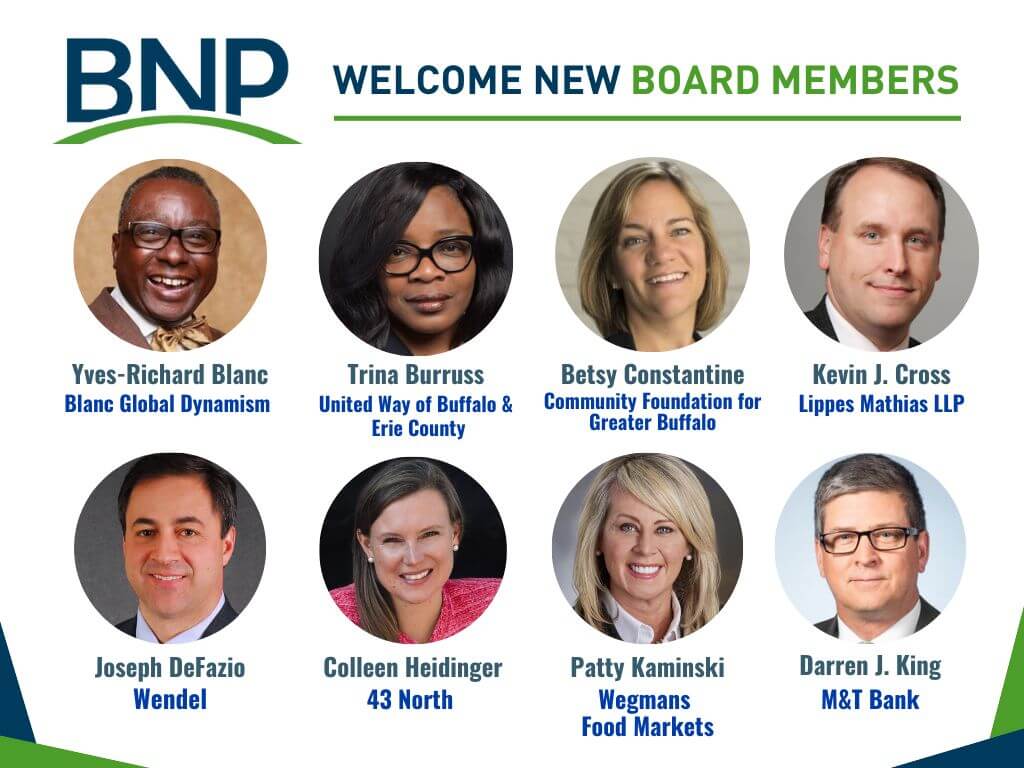 ABOUT THE BUFFALO NIAGARA PARTNERSHIP
The Buffalo Niagara Partnership is the area's regional chamber of commerce and privately-funded economic development organization. Partnership members employ more than a quarter of a million people in the Buffalo Niagara region. By mobilizing members and strategic partners around common goals, the Partnership grows private investment and jobs in Buffalo Niagara through advocacy, business development, and convening.