Introducing Dr. Allison Brashear, finalist for the 2023 ATHENA Leadership Award
For more than 30 years, the Buffalo Niagara Partnership has been honored to produce the ATHENA Awards® to support, develop, and honor women leaders in Western New York.
The BNP is pleased to introduce you to the finalists who have been selected for the 2023 ATHENA honors. This includes the ATHENA Leadership Award®, the ATHENA Young Professional Leadership Award®, and the ATHENA Organizational Award®, which recognizes one for-profit organization and one non-profit organization that inspire women in WNY.
We're highlighting each finalist in the weeks ahead, leading up to the Awards Luncheon. Come back often to read the profiles and you'll learn what it means to be an ATHENA!
Celebrate all of our finalists and see the recipients announced LIVE on March 29, 2023 at the Buffalo Niagara Convention Center.
The Buffalo Niagara Partnership is pleased to introduce you to 1 of 10 finalists in the ATHENA Leadership Award® category - Dr. Allison Brashear, Vice President for Health Sciences and Dean, Jacobs School of Medicine and Biomedical Sciences, University at Buffalo.
Meet ATHENA Leadership Award® Finalist: Dr. Allison Brashear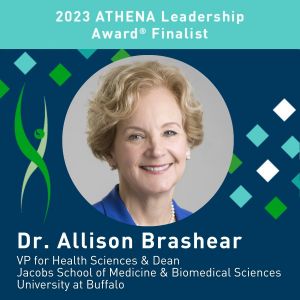 Allison Brashear, MD, MBA, is an internationally recognized neurologist, accomplished researcher, and health science administrator. Dr. Brashear was appointed Vice President for Health Sciences at the University at Buffalo and Dean of the Jacobs School of Medicine and Biomedical Sciences in 2021. 
She is currently a principal investigator on a unique genetic form of dystonia known as Rapid-onset Dystonia-Parkinsonism, studies which are ongoing with researchers at UB. Earlier results on this research have been published in numerous journals. 
Outside of her research and work at the university, Dr. Brashear has been involved with the WNY Women's Foundation, All In, HEALTHeLINK, Buffalo Niagara Medical Campus, and AAMC Council of Deans. She also serves on the McKnight Brain Research Foundation Board, and the American Board of Psychiatry and Neurology. 
We asked Dr. Brashear a series of questions to get to know her better.
First Job  
Dr. Brashear's very first job, at age 16, was working at the front counter at Burger Chef (now known as Hardee's). 
Career Highlights 
Dr. Brashear says the highlight of her career has been mentoring other women in medicine. She started a women's leadership program at the American Academy of Neurology that now has morphed into a leadership university for all underrepresented groups. 
Best Piece of Advice Given Regarding Her Career 
"My close friend convinced me to get an MBA at Duke when I was 50 years old. I jumped in with my last calculus class 30 years prior. It was a large time investment; our son used to tell me to stop doing homework and go to sleep!" 
Advice to Give to a Woman Just Starting in the Workplace. 
"Develop a group of mentors who advise you and add new people to that group. Never underestimate the importance of networking, and how far kindness can go. You will be surprised how people you met long ago may re-enter your life." 
About Being an ATHENA Finalist 
"One of the big draws for me to move to WNY was the community of women leaders I met. As a newcomer, I'm honored to join this esteemed group of women who are leading the way for improved health and economic prosperity for our community."   
On Buffalo Niagara 
"I love the friendliness of everyone who lives in Buffalo, and their commitment to making sure everyone loves their city as much as them." 
Favorite Spot in Buffalo.  
Delaware Park, near Hoyt Lake, and the History Museum.  
Added Insights 
Guilty Pleasure:

Getting my orchids to rebloom and lots of quality time with my husband and our two dogs.

 

Superpower:

Convening diverse thinkers to solve a problem. 

 

My Friends Describe Me As:

A voice of reason.

 

If I Could Swap Lives with Someone for a Day, I'd choose:

I would never swap; I love every day here in Buffalo.

 

 
Attend the ATHENA Awards® Luncheon
The ATHENA Awards® Luncheon is the region's most prestigious event recognizing the professional accomplishments of exceptional individuals who are dedicated to the advancement of women. Be there when the recipients are announced:
Wednesday, March 29, 2023
11:00 A.M. to 1:30 P.M.
REGISTER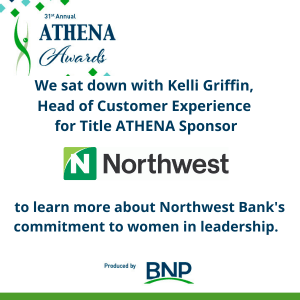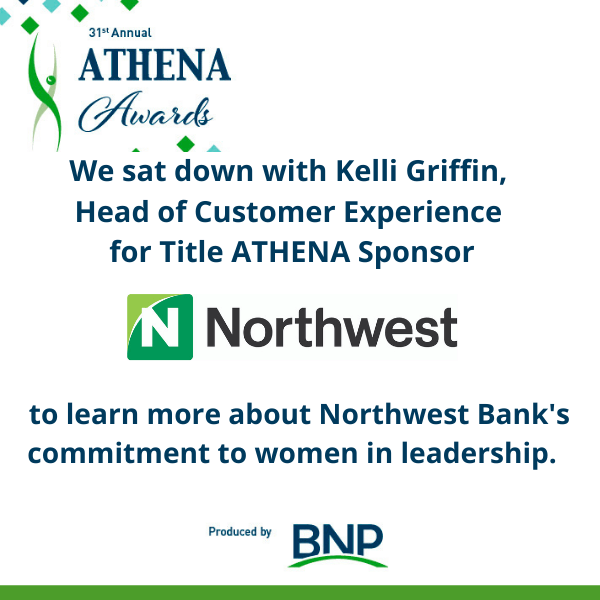 Northwest Bank's commitment to women in leadership goes much deeper than just sponsoring the 31st Annual ATHENA Awards. The BNP's Nancy McNamara, Senior Manager – Member Engagement, sat down with Kelli Griffin, Head of Customer Experience for Northwest to learn more.