It's Time to Reopen the U.S.-Canada Border
The time has come to reopen the U.S.-Canada land border. The border has been closed for non-essential travel since March 21, 2020 – over a full year. After a year of financial devastation, the economies of Southern Ontario and Western New York need a boost, and reopening the border would provide it.  
While the border remains open for essential shipping and business travel, the border closure has particularly damaged sectors that depend on foot traffic, including:
Tourism

Retail

Lodging

Transportation

Gaming

Food service
Additionally, the decline in sales to foreign customers has deprived local governments of critical sales tax revenue at a time when they need it most.  
The damage caused by the closure is not just economic: 
it is also social
. 
People hoping to see their loved ones, pursue work opportunities, or maintain their properties are either deemed "non-essential" and forbidden, or they are subject to unreasonably-long mandatory quarantines. The continued border closure is antithetical to the interwoven cultures of Southern Ontario and Western New York, which our residents have long enjoyed.  
Our bi-national region encompasses a population of over 8 million people and generates over $400 billion in gross domestic product. Canadians make more than 3 million cross border trips per year to Western New York, spending in excess of $900 million when they do. The strength and importance of economic and cultural relationships between our nations cannot be overstated.  
This is not to say that public health concerns should be disregarded.
As Ontario faces its worst spike in Covid-19 cases, it is critical for residents and foreign visitors to follow all public health protocols. Additionally, both nations would need to plan for keeping border security agents safe with an increase in crossings. However, when safety guidelines like testing, masking, and social distancing are practiced, residents of one nation pose no greater public health risks than residents of the other.  
It is time for the Biden and Trudeau administrations to mutually agree to an implementation plan to safely reopen the U.S.-Canada land border to non-essential travel. The BNP encourages both nations to eliminate unnecessarily burdensome quarantine requirements for border crossers who have been vaccinated or received a negative test. The reopening plan should, of course, include methods of ensuring travelers follow all national, state, and provincial Covid-19 restrictions and public health guidelines. Waiting until late summer or fall to develop a border reopening plan is simply not a viable option for our regional economies. The time to do so is now.
Click HERE, or on the image, to download the PDF and learn what we think the US and Canada must do now to reopen the border.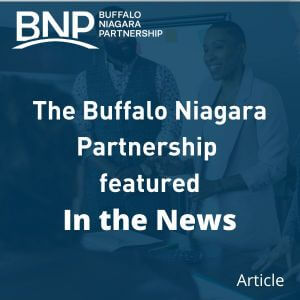 BUFFALO, N.Y. (The Buffalo News) —Dottie Gallagher, president of the Buffalo Niagara Partnership, said fears of random testing and possible quarantines in Ontario all worked to discourage significant aspects of the region's integrated economy. She called the move "quite frankly, long overdue," especially for those travelers discouraged to even try navigating requirements like ArriveCan.