The Member Events Calendar keeps you informed about workshops, networking, and fundraising events hosted by Members of the Buffalo Niagara Partnership. Explore the calendar below and check back for new events! 
The Buffalo Niagara Partnership reserves the right to limit the number of postings from any one organization and to reject any posting when deemed to be offensive, inappropriate or not in the public's interest or in conflict with this policy or the mission of the BNP.  The BNP publishes calendar listings in good faith, but the submitting sponsor of the event will be responsible for checking the correctness of the entry; the BNP is not responsible for errors or and losses/inconvenience resulting from errors.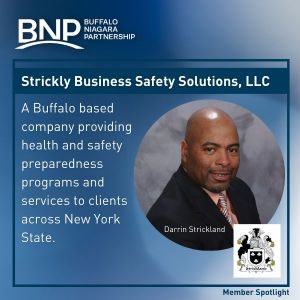 Darrin Strickland is the founder and CEO of Strickly Business Safety Solutions, LLC, a Buffalo-based company providing health and safety preparedness programs and services to clients across New York State. From authorized and certified CPR/AED training and workplace emergency preparedness, to defensive driving courses and babysitter certification, Strickland and his staff help businesses, schools, and individuals be safe and be ready in critical situations.