Staff Spotlight: Meet Kathleen Sullivan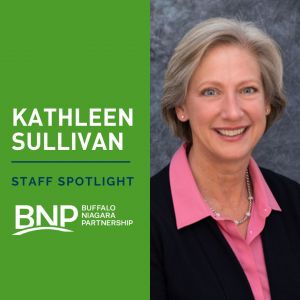 We are pleased to introduce BNP's Executive Assistant, Kathleen Sullivan as our latest Staff Spotlight.
Kathleen is the Executive Assistant to Dottie Gallagher, President & CEO.  In this role, she supports the Senior Leadership Team and works with all team members to engage them in the Partnership's values every day.
Learn a little bit more about Kathleen in this brief Q&A. 
Q: What is your background in/what type of work were you in before the BNP? 
A: Prior to coming to the BNP I spent 30+ years in the banking world.  Without ever applying for a position, I moved from Marine Midland to HSBC to First Niagara to KeyBank!
Q: How did your past experience prepare you for your current role at BNP?  
A: One of our goals at the BNP is to be a nimble organization and respond to issues vital to the business community as they come up during the year. I feel like going through these difficult times related to the pandemic has provided opportunities for us to show the business community how our organization was there to help them make it through!
Q: Tell us a little-known fact about yourself.
A: Not many little-known facts, I'm kind of an open book…
Q: What do you like to do for fun?
A: I love to play tennis and play USTA throughout the year.  Tennis has provided me with a close-knit group of friends.  We have been escaping on tennis getaways for the past 10 years together.
Q: What is your favorite part about living in Buffalo?  
A: I really do love the 4 seasons that we experience here, even with a long winter. It makes us appreciate the warm weather months … and gives us an excuse to take a trip to sunny Florida during the winter months!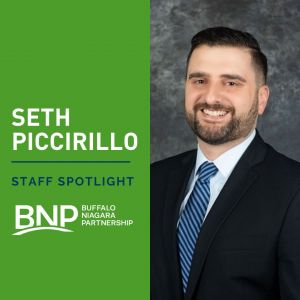 We are pleased to introduce Seth Piccirillo, BNP's Director of Economic Development as our latest Staff Spotlight. Seth's role is to help our members increase their competitiveness and ability to thrive in the local, national and international economy. Learn a little bit more about Seth in this brief Q&A.