The Buffalo Niagara Partnership offers unique leadership development programs for C-suite executives,  developing managers, D&I leaders, and sales management professionals. Each program is professionally facilitated by experienced consultants who will guide discussion around your specific business challenges.
Executive Exchange is a unique, professional and leadership development program for senior business leaders to meet, share experiences, and resolve business challenges in a comfortable and confidential setting.
Leader Exchange is designed for developing leaders who have an interest in honing their skills and learning how to navigate business and industry in Buffalo Niagara.
Sales Leader Exchange focuses on the specific goals, objectives, and challenges of today's sales leaders, including process, procedures, strategy, planning, measurement, leadership, and accountability.
The Diversity & Inclusion Academy is the region's premier offering for Diversity & Inclusion. Taught by nationally recognized industry experts, attendees will be given a robust foundation from which they can create an actionable, next step "strategy workbook" for their workplace.
Our leadership development programs are professionally facilitated by some of the region's most successful business professionals and customized to meet the individual needs of the members in each group.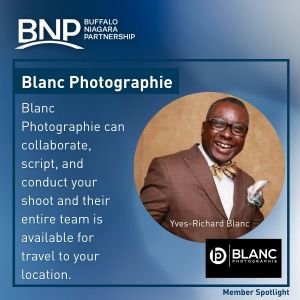 Yves-Richard Blanc first started taking photographs when he was 15. It quickly became his passion and, after earning a degree in commercial photography from the Fashion Institute of Technology in New York City, he turned that passion into a career of 30-plus years.