Put Your Money Where Your Heart Is
Now more than ever, it is important for us to stand together and support each other – which means that each of us has to do our part to keep local businesses open, and our neighbors safe and employed.  
The Buffalo News It's Our Job Buy Local Directory provides a comprehensive list of Buffalo Niagara area businesses that are open for business.  
Let's all make a conscious effort to support local businesses – your neighbors – through these turbulent times, so that we can come back quicker and stronger than ever.  Shop local and keep as much money in our economy as possible! 
Spread the Word, Not the Virus #ItsOurJobWNY
Share your love for your neighbors and your community while encouraging others to shop local, too! Show how you shop local, practice covid-conscious habits, or highlight your favorite businesses and services.
You could be featured in the newsletter below, in our social, or in one of our partner's social! See our social kit and download campaign images HERE.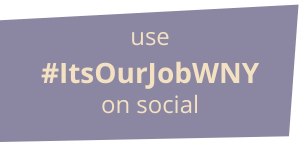 More Ways to Find Local Businesses
Click on any of these directories to find local businesses to support.
Why It's Important to Shop Local
Our local businesses are owned and operated by your neighbors.  They care about, and are invested in, the future of our community and it's our job to support them in return.  Here are some more reasons why it's important to support local businesses:
Local businesses are more likely to utilize other local businesses such as banks, service providers, and farms.

 

Independent retailers return more than three times as much money per dollar of sales to the community than chain competitors. Independent restaurants return more than two times as much money per dollar of sales than national restaurant chains.

 

Local businesses are more accountable to their local communities and donate more money to non-profits.

 

Supporting local businesses is good for the environment because they often have a smaller carbon footprint than larger companies.

 
Are You a Local Business?
Visit our business resources page here for tools and resources you can use to make your job, in It's Our Job, easy. Add your business to The Buffalo News directory and keep customers up to date on any changes in operations due to the COVID-19 pandemic. Set up your free account HERE.