Diversity, Equity & Inclusion
The Buffalo Niagara Partnership is committed to creating awareness about the competitive advantage of having a diverse, equitable, and inclusive regional business climate through employer education, talent recruitment, and procurement.
The benefits of a diverse, equitable, and inclusive workforce are well-known and include enhanced innovation, increased competitive advantage, higher employee engagement, and improved talent attraction and retention.
However, recruiting and retaining a diverse workforce continues to be a major challenge and priority for our members.  In response to our members' needs, we have created several programs designed to advance best practices and enable employers to leverage diversity for competitive advantage and promote a workplace culture of inclusion and engagement.


Diversity, Equity & Inclusion Executive Exchange:
Small, peer-to-peer, professionally facilitated groups for Senior Level Executives who are actively implementing DEI programs in their organization.  Where leaders can comfortably meet, share experiences, and resolve D&I challenges in a confidential setting.

Diversity, Equity & Inclusion Symposium:
The premier event for DEI in the Buffalo Niagara region. Our Symposium is presented annually to empower organizations to come together to learn how to start, continue, or accelerate DEI efforts. In 2022, we had more than 800 registrants, who signed onto our advanced virtual platform from within Buffalo Niagara and beyond.
Diversity, Equity & Inclusion Assessment: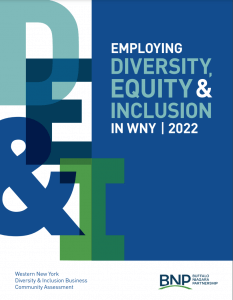 Originally undertaken in 2020,  the WNY DEI Community Assessment has been released with updated data that indicates there has been significant progress and interest on behalf of local employers to move past "learning" and into action.
Read the 2022 press release here>
Minority Business Initiative: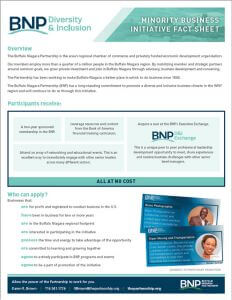 This initiative seeks to help break through the barriers that have historically challenged minority business ownership and create a pathway to board membership for participants. By giving minority-owned businesses greater access to BNP's resources, the program's underwriters aim to help multiply the participant's success.
Thank You to Our DEI Executive Council Sponsors
Thank you to our DEI Symposium Sponsors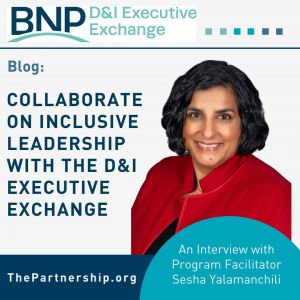 The BNP's Diversity & Inclusion Executive Exchange provides a unique, peer-to-peer forum for leaders to collaboratively share skills and strategies in D&I practices.  Designed specifically for senior leaders with the highest level of responsibility for D&I initiatives, the program is facilitated by our expert in residence Sesha Yalamanchili. 
Cultural humility. The term may be unfamiliar, but it is a critical component to any organization's diversity, equity, and inclusion efforts.
Read More