Staff Spotlight: Meet Ian Gattie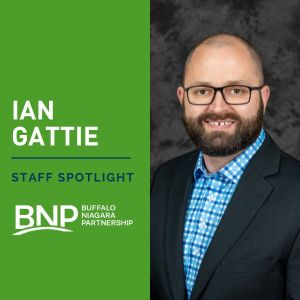 We are pleased to welcome Ian Gattie, Vice President, Marketing & Programs, as our latest Staff Spotlight.
In his role, Ian provides strategic direction, implements comprehensive marketing and communication plans, and oversees events, programs, and initiatives of the Buffalo Niagara Partnership.
Learn a little bit more about Ian in this brief Q&A. 
Q: What is your background in/what type of work were you in before the 

BNP?

 
A: With over 15 years of experience in marketing, I have cultivated a strong professional background in leading strategic growth initiatives for organizations. Initially, my career encompassed freelance marketing and creative services then I transitioned into higher education, assuming roles as an adjunct instructor and as head of marketing & creative services. My most recent position involved serving as the director of marketing at Avalon, an organization with several divisions including cybersecurity and litigation support services.  
Q: 

How did your 

past experience

 prepare you for your current role at BNP?

 

 
A: The root of marketing entails the dissemination of knowledge to diverse audiences regarding a multitude of subjects, offerings, and trends. My tenure within higher education as both an adjunct and marketing strategist has provided me with a wealth of experience in educating audiences. Moreover, my work with various departments in higher ed has provided me with extensive experience in event management and marketing strategies specific to the non-profit sector. Complementing this, my time in the private sector has equipped me with invaluable skills in strategic planning and a steadfast commitment to achieving goals and objectives. Throughout my professional journey, I have cultivated a repertoire of tried-and-tested methodologies that foster the formation of high-performing teams capable of attaining organizational goals. 
Q: What inspired you to join the BNP team?
A: The BNP's efforts have a profound and wide-ranging impact on our community. Their unwavering commitment to critical initiatives aimed at fostering an improved work environment for business owners, executives, and our local workforce is truly commendable. This aspect resonates deeply with me and played a significant role in my decision to become part of this dedicated team. 

Q: Tell us a little-known fact about yourself.
A: I'm on a mission to become a 46er. That means conquering all 46 Adirondack high peaks. Let me tell you, it has been quite the adventure already, and I am excited to complete it over the coming years.  
Q: What do you like to do for fun?
A: I really enjoy the outdoors and taking my family camping. Each year we explore a new state and in between those trips we camp in various NYS parks that are within a few hours of Buffalo, NY. We love to hike, kayak, swim, and explore the areas we visit. 
Q:

Best Buffalo Hidden Gem

?
A: To people outside of our region, I think WNY is the hidden gem! We live in an incredible and thriving city full of wonderful diverse people. We have amazing villages, restaurants, parks, and endless activities year-round. 
Q: What is your favorite part about living in the Buffalo area?  
A: Witnessing and being part of the transformation of the city over the last 20 years has been extremely exciting to me.  
Q: 

What do you like best about a hybrid work schedule?

 

 
A: In my previous role, I had the luxury of working remotely all the time, and that had its perks. But now that I've started heading into the office a couple of days a week, there's this one thing that brings a huge smile to my face — seeing my awesome colleagues in the flesh! I enjoy strolling through the office, catching up with team members, and not just through Teams meetings. There's just something about brainstorming together, cracking jokes, and having those impromptu water cooler conversations with the fantastic folks I work with. It's the kind of stuff that makes work feel more like play!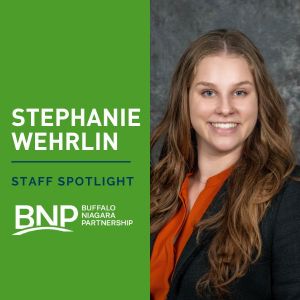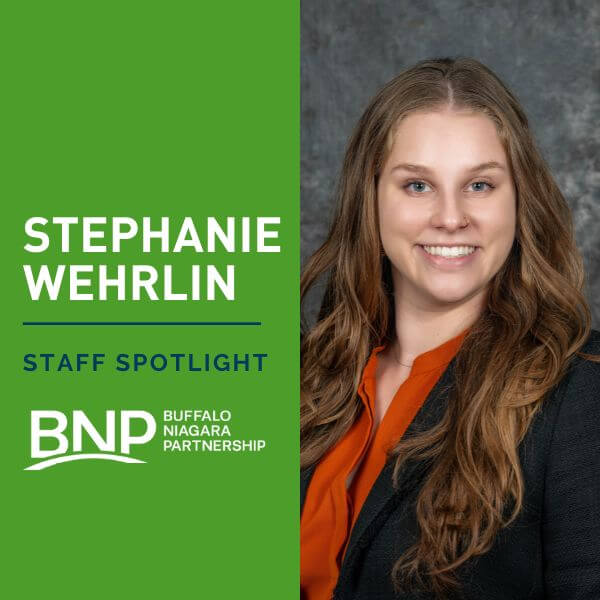 We are pleased to introduce Stephanie Wehrlin, BNP's Assistant Event and Program Manager as our latest Staff Spotlight.
Stephanie has a specific focus on our Young Professional division, BN360. She creates an engaging platform for young professionals in the Buffalo Niagara region to connect, collaborate, learn, and be empowered.
Learn a little bit more about Stephanie in this brief Q&A.