BNP Advocacy Insider – June 2022
Legislature Ends Year with Flurry of Activity
The New York State Legislature gaveled out for the final time in 2022. Before doing so, it passed hundreds of bills that will head to the Governor's desk for review. The BNP was in constant contact with state leaders throughout the last week, articulating BNP positions on many consequential bills.  
This marks the end of Governor Hochul's first session, an eventful one that included a new Bills stadium, a new Capital Plan, and a new Lieutenant Governor.  
To read our session recap and learn what passed, visit our blog here. 
BNP, Business Groups Call for Assault Weapons Ban
In response to the Tops supermarket attack, the BNP called for the renewal of the federal assault weapons ban. President and CEO Dottie Gallagher joined Rep. Brian Higgins, the Business Council of New York State, the Business Council of Westchester, the Brooklyn Chamber of Commerce, and the Greater Rochester Chamber of Commerce at a press conference announcing the effort. To learn more about the push, visit our site. 
Comptroller: NYS Workforce Efforts "Duplicative"
New York State Comptroller Tom DiNapoli released a report following a years-long analysis of New York State's workforce development programming. The report found significant overlap, duplication, gaps, and fragmentation in state workforce development programs and services.  
Learn more about the report here, and visit our Employ Buffalo Niagara page for information on the BNP's employer-led workforce development initiatives.  
BNP, Great Lakes Partners Push for Federal Investment
The BNP and the Great Lakes Metro Chambers Coalition wrote to Congressional leaders to advocate for priorities in the US Innovation and Competition/COMPETES Act. Our priorities include expanding Pell grant eligibility for short-term credentialing programs, including elements of the National Apprenticeship Act, and investing in Regional Technology Hubs. Locally, the BNP has pushed this effort together with M&T Bank and the University at Buffalo alongside US Senate Majority Leader Chuck Schumer.  
Read the full letter here.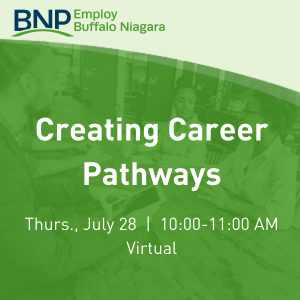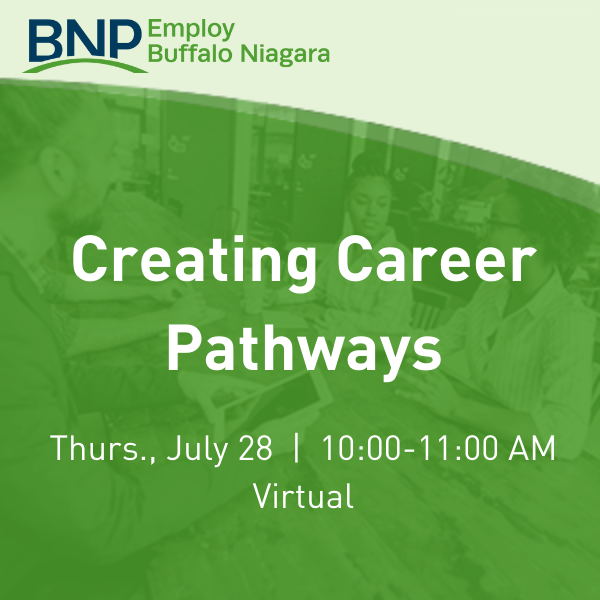 The Buffalo Niagara Partnership knows that hiring is the most common pain point amongst all employers right now, and will be for the foreseeable future. We created the Employ Buffalo Niagara Career Pathways Program to help regional companies attract and retain talent in this challenging job market.