2022 D&I Symposium: Meet Bryan Gill, Panelist
The BNP is pleased to welcome Bryan Gill, Head of Global Neurodiversity at JP Morgan Chase as a panelist at our 2022D&I Symposium: DEI at Work.
We will be helping you get to know each presenter, panelist, and moderator in the weeks ahead, leading up to the 5th Annual D&I Symposium on June 16th – get your tickets here.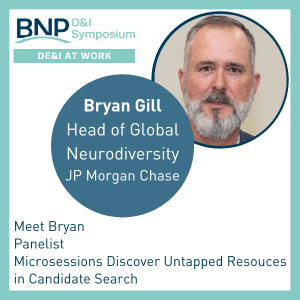 BIO:
Bryan oversees the firm's strategy to increase jobs, drive career development and deliver support to broad range of neurodivergent talent.
Bryan is the leader of the BeST (Business Solutions Team) initiative since 2019 which aims to create a sustainable solution that taps into an under-utilized talent pool as the firm continues to drive diversity, equity and inclusion with greater impact across communities while helping to make JPMC an employer of choice for people with disabilities around the world.
Bryan is located in the DFW metroplex and holds a Bachelor's degree in Economics from Radford University.
2022 D&I Symposium Speaking Topic: Discover Untapped Resources in Candidate Search
Respond to your recruitment needs in a way that you might not have considered.  Take an in-depth look at how you're the answer to filling those positions are right in front of you. Learn how to utilize the power of creating inclusivity by filling positions through developmental disability/refugee/reentry candidates.
This discussion will be moderated by: Michele Mehaffy, Buffalo Consumer Affairs Manager, Wegmans
The session will feature panelists:
Attend the 2022 D&I Symposium
Our 5th Annual Diversity & Inclusion Symposium will feature national experts on D&I sharing their knowledge on subjects such as building an inclusive culture, and the best practices, cultural assessments, and dimensions of diversity.
KEYNOTE: Melissa Donaldson, Chief Diversity Officer, Wintrust.
This event will feature workshops and break-out sessions with actionable next steps for attendees to take away.
Thursday, June 16, 2022
9:30 a.m. to 4:00 p.m. EDT


Register to Attend Here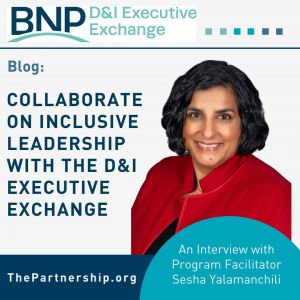 The BNP's Diversity & Inclusion Executive Exchange provides a unique, peer-to-peer forum for leaders to collaboratively share skills and strategies in D&I practices.  Designed specifically for senior leaders with the highest level of responsibility for D&I initiatives, the program is facilitated by our expert in residence Sesha Yalamanchili. 
Cultural humility. The term may be unfamiliar, but it is a critical component to any organization's diversity, equity, and inclusion efforts.